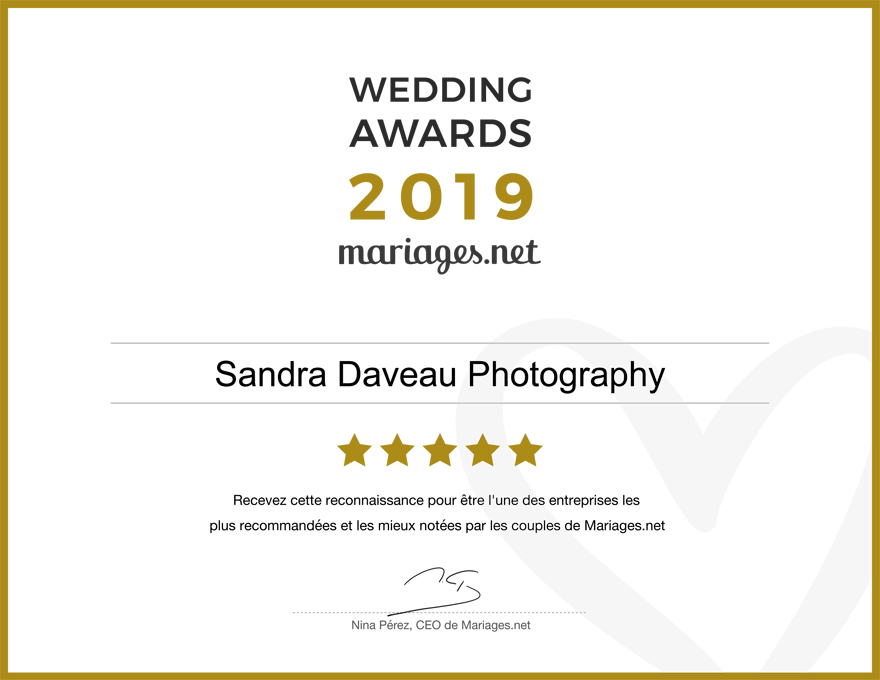 30 of Photography
15 years as a profesionnal
72 messages in the french guest book French guest book
Link few message in english English guest book
1 Photo report posible + options
Cost 1000€ for 6 hours
A photo report beginning with wathever step you might feel important, for exemple the ceremony + group pictures + bride & groom photo session through to your arrival at the reception
or
- the evening until the first dance or the presentation of the wedding cake
+
Bride & groom photo session after the wedding
An over 5 hour romantic photo session of your couple in Loire Valley on a day other than the wedding day
+
Books & thank you cards
- a luxury Wedding Photo Book of 40 pages in its box
- 2 prestigious book for your parents
The fixed costs vary according to the place where you are getting married and where to send the items
How to reserve my services
To get in touch with me go to the Contact menu or send an e-mail to contact@sandradaveau.com
If you do, contact me and we can discuss all of the details of the content of the reportage.
Should we not be able to meet, a Skype contact would be preferable if you live abroad.
Contract signature and the deposit payment for my services on the date of your event are usually done either in person during an appointment or by mail.
What you might like also for your wedding day:
- getting your hair done, make up, getting dressed
- at the City Hall
- religious or civil ceremony
- photos of the bride and groom the same day as the wedding or on another day
- group photos
- vin d'honner, cocktails and portraits
- decoration of the reception room
- your arrival at the reception one hour after the cocktail and the ambiance with the first speeches and activities
- your evening until the first dance or the presentation of the wedding cake
. a 3 hour photo session of your couple on a day other than your wedding day (Saturday excluded)
. an over 5 hour photo session of your couple on a day other than the wedding day (Saturday excluded)
. at the City Hall the day before the wedding or on another day
. Brunch
. your bachelorette party
. a photo session portraying the marriage proposal
Invitation and thank you cards
. Design of an original wedding announcement or thank you card on top quality paper
. I am also available to record the joyous moments of your life: the 10th anniversary, the births, baptisms and communions of your children!
You might enjoy viewing Lifestyle & Portrait
Wedding Albums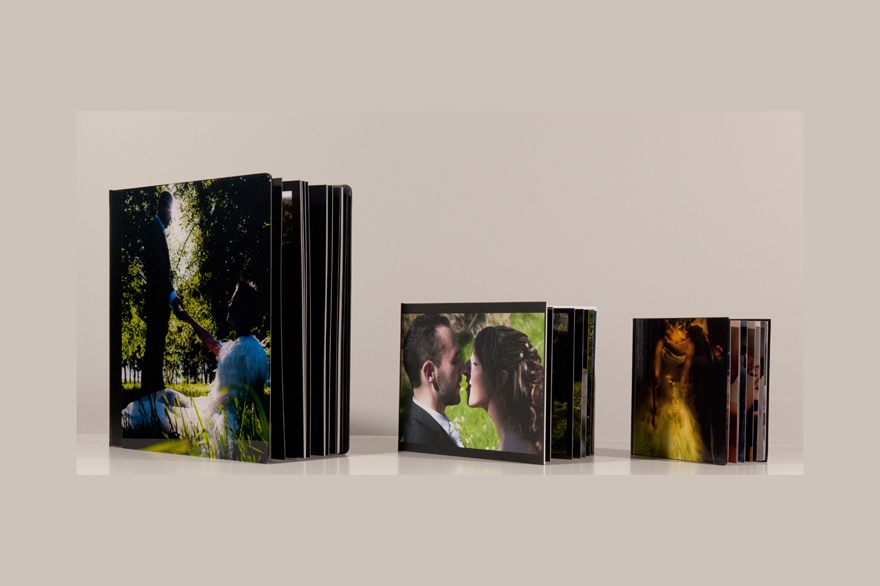 . Luxury Edition 15,75 X 15,75 inches (30 x 30 cm) , 40 pages
Professional 475 grams photo paper in a wooden box with a simulated leather covering and which opens out flat
. gift books for your parents with different options available
. notebooks to thank your witnesses and siblings
. Personalized Hard Cover, 360 gram glossy paper, elegant square format
If you are looking for a professional photographer for that very special day, your wedding day. If you like dynamic, romantic, poetic and even funny images that reflect your love, emotion and happiness ! If you would like a photo reportage that highlights all of the energy that you put into this unique moment in life, down to its slightest details, with preferably spontaneous and sometimes unexpected images. If you would like to relive this event step by step and have unique, original and beautiful images that portray the real you.
Contact me !
I hope to have the pleasure of working for you.
Recommendations
Several couples have been kind enough to write recommendations for me and thanks to their messages I obtained the Golden approval from the Mariages.net site. Their kind words constitute an authentic guest book that highlights the essential values that I wish to continue providing my clients with. As I was touched by their words I now submit them to you for you to appreciate.
From Mayeule, married to Paul
"I recommend Sandra Daveau for a photo reportage of your wedding: her professionalism will reassure you as she defines with you all of your wishes concerning the photographs to be taken before the wedding itself. She is both very conscientious and professional and will do her utmost to please you. Her portraits are very good and she will not forget to photograph every member of the family. Finally, for those who like a bit of fantasy, you will have truly artistic photos with bouquet, veil, dress… Afterwards, Sandra works very fast to deliver the photos. We recommend her! "
By Sabrina and Gilles
"Hello, when one of the most important moments of your life is to be immortalized it is important that the person immortalizing them be also just as exceptional. Sandra convinced us with the quality of her past projects on a variety of artistic themes. Sandra is passionate about her work and knows how to blend with different groups to obtain and fix precious instants. The photos were neither standardized nor ones already seen but truly a set of images that corresponded to us. I sincerely recommend this photographer for her availability and professionalism but above all for her artistic and photographic abilities which added to our joy when we went back to look at the photos of our wedding again. Gilles and Sabrina "
From Aurélie and Jean
"We would not have wanted any other photographer than Sandra for our wedding. She is a top professional, extremely kind and her experience in photography a real bonus.
Our wedding pictures are very beautiful and the excellent quality of the albums created with them has greatly impressed more than one. We very sincerely recommend her."
From Chloé and Philippe
" Sandra is a real professional. Everything was thought of to make the big day go just perfectly, in particular the photos of groups that were taken calmly and rapidly. We received the photos quickly after the wedding. We appreciated both Sandra's kindness and availability."
From Audrey and Benoît
" Thanks to Sandra's photographs we have been able to keep the memory of our wedding completely intact. We were won over by her energy, professionalism and all of her expertise. She loves being challenged and was able to meet all of our expectations and
wishes. What is essential to underline is that Sandra is an artist, a real one ! She is passionate about her work and she knows how to catch the best of each instant, even one that might seem quite ordinary. Thank you for everything ; you can go to her eyes closed, honestly! "
From Mathilde and Pierre
"A photographer who is very professional and attentive to the newly weds. She proposes a fixed fee that enables you to obtain all of the photos and the copyright. This allows the family and friends to benefit from the photos for free. We recommend her."
From Caroline and Guillaume
"Our wedding was immortalized by photographer Sandra Daveau . Thanks to her professionalism, her attentiveness and human qualities she allowed us to keep excellent memories of our wedding. She understood what counted the most for us on this day. She had excellent ideas for photos of the bride and groom and also offered to take pictures of our parents as a couple, who were just delighted."
From Amandine and Arnaud
"We were married in 2009. Our meeting with Sandra Daveau can be described with just the word "pleasure" but to add more: a sincere contact and a very professional approach with regards to the service that she offers. She was able to listen attentively to our wishes concerning the photos that we wanted to have taken. We were able to feel very free and be natural while they were being taken. Our collaboration to create magical memories of our wedding, which remain so up to today thanks to her work, was a very joyous and easy one. Thank you, Sandra. Arnaud and Amandine "
From Vanessa and Michel
"Wonderful photographs, a respectful and sincere presence. In addition to memories that belong only to us, we made a lovely acquaintance. Sandra catches everything around her, all the spontaneous instants of life. There is not one trite photograph and on top of that there is a very large choice of photos."
BLOG
Castel and others places to celebrate
English wedding at Domaine de Beauvois
Wedding celebration at Le Choiseul
Baptism at Domaine de la Tortinière
Wedding at Salons de la Raynière
Wedding at Grotte de la Roche aux fées
Another wedding at Grotte de la Roche aux fées
Selection of full weddings
http://www.sandradaveau.com/fr/blog/29/mariage-dans-le-verdon.html
http://sandradaveau.com/fr/blog/13/un-mariage-de-voyageurs.html
http://sandradaveau.com/fr/blog/11/un-mariage-naturel.html
Wedding in a brass band spirit
Long bride and groom's photo sessions
In the mood for love photo session
Brides and grooms shooting
http://www.sandradaveau.com/fr/blog/22/mariage-a-paris.html
http://www.sandradaveau.com/fr/blog/10/mariage-a-chambery.html
http://www.sandradaveau.com/fr/blog/2/mariage-en-loire-atlantique.html
http://sandradaveau.com/fr/blog/14/une-seance-de-couple-dans-le-parc-de-mon-enfance.html
http://www.sandradaveau.com/fr/blog/24/trash-the-dress.html
Major steps in a wedding
http://www.sandradaveau.com/fr/blog/8/les-photographies-de-groupes.html
http://www.sandradaveau.com/fr/blog/25/jet-de-bouquet.html
http://www.sandradaveau.com/fr/blog/15/une-mariee-se-prepare.html
http://www.sandradaveau.com/en/blog/5/bachelor-party-in-french-caribean-island.html

A spirit and an eye
My career and experience

Photography for 30 years, 15 years of which as a professional, I started my business in 2004. This marked a return to my origins and native region, Loire Valley. I have had the opportunity of working for many public and private entities such as: The Ministry of Culture and Communication, the Military Academies of Saint-Cyr Coëtquidan, the National Estate of Chambord, the Royal Abbey of Fontevraud, the Congress of French Notaries, the Conseil Générale of Indre and Loire, the Center of Contemporary Creation... Following 3 years of solitary travel, I published photos in the "Voyage" section of Gala Magazine and the Michelin and Petit Futé guide books. Thanks to a portfolio in the magazine Réponses Photo, a reportage of painters repainting the Eiffel Tower, I was also invited to Voix Off at the Rencontres d'Arles. I also occasionally present some of my artistic work, as for example at the Off des Chroniques Nomades d'Honfleur, Festival of Travel and Adventure. I studied and then taught in the field of plastic arts. The act of transmitting being an element of major importance in my life, I sometimes teach photography at the Institut du Travail Social de Tours, correlating the idea of an image with the image that one has of oneself.
Wedding photography

I have been lending my eye to the delicate work of wedding photography for 15 years now. I would like to take advantage of the opportunity given me through this website to thank all those who entrusted me with the reporting of such an important day in their lives. A wedding day goes by incredibly fast and the only trace that will remain of it is photographs. Some write to me saying that they look at them time and time again many years later.
I feel fortunate to receive heartfelt words concerning the beauty of images, my professionalism and expressions of satisfaction with my simple and dynamic approach. I hope that you will be touched by the human dimension of the photos shown on my site along with these often intimate messages.
Although most of my work takes place in the regions of Indre et Loire and Loire-Atlantique, I do travel all over France and to the Dom-Tom, the French overseas departments and territories. I speak English and Spanish fluently and this allows me to travel abroad and propose friendly and sincere services to foreigners wishing to have their wedding in France and in one of the sumptuous chateaus of the Loire Valley.

I recall having the opportunity of photographing all of the stages of a wedding in Martinique that lasted 15 days in 2011. I am all for this type of an event. The clients were able to have photos of their guests arriving, of personal sessions with their children, of various parties, the preparations, excursions and of thousands of spontaneous instances of an unforgettable moment of life. When I started in 1998, two weddings in the United States served as an initiation to a very original way of recording weddings. A weekend in London in 2006 with a Japanese bride and an Italian groom seriously reinforced the idea of working internationally for me. The idea using my years of travelling experience for the benefit of a major event such as a wedding fills me with happpiness.

I dedicate myself entirely to my work and am fully conscious of the fact that the photos I take are meant to retain the memory of happy, exceptional moments and that they will be passed down from one generation to another.

I thank you in advance for your confidence.
Sandra DAVEAU